So this is what we do
NAME MARKS
Made from 1.5 mm plywood so they are light yet strong, our name marks are eight inches by two inches, thin enough to use as a book mark, big enough to go on doors, drawers, toyboxes etc.  Covered in bright fabric in lots of different patterns to suit your colour scheme.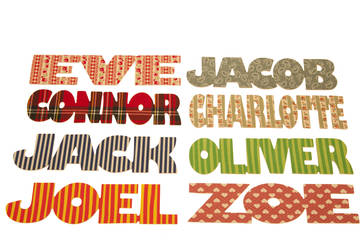 FABRIC LETTERS
Bright, cheerful and exclusive to us.  Fabric fronted wooden letters in a wide range of colours and designs.
Each letter is three inches high and supplied individually packed with sticky fixers.  Capital letters and numbers only, these are not available in lower case although we can supply accents and ampersands if required.